Prayers from prison
Prayers from prison 1981~89
1981
Conscience is the only voice to save the life of an innocent man. The longer the dark and suffering night is, the higher the voice of conscience particularly resonates. It was this voice which supported me during my time of 14 years' imprisonment, being complicated with dismal, bitter grief and anger. Cock, Crow! My dark night has become bright. Cock, Crow in a hurry! The break of dawn has slowly started. (May 6)
Dear Sister,
Our Savior, Christ, is God, who manifests holiness, justice and the truth to me. My belief in Our Lord is becoming deeper and deeper by which I can stand peacefully reaching toward the real victory. People may criticize me saying that these are just snips of knowledge taken from God's words. However, I can bravely resist against various temptations which surround me. It is certain that only God can protect me. God knows my innocence. I will win with God's infinite love. (June 23)
Dear Sister, (omission)
How can we change an attitude of rejection and open a closed mind? I wonder why it is so difficult to be happy in this human society. When I think of a reason, as the Bible teaches us, we cannot but come up against this problem of sin in all living beings. I want to think deeply about this matter of sin as an inexperienced Christian in prison. The teaching of the Bible has been thronging in my heart from the beginning.
The words of the Bible are a strong teaching which until now have been inspiring me, who had been living in such an idle way of thinking which cannot be helped because of my prison life and, in one aspect, was an easier way of living. The teaching of the Bible exposes a life of the man from various angles. It brings men's weaknesses and carelessness before the light of God. I came to think little by little that not listening to the words of God is an immeasurable loss.
"I tell you, you can pray for anything, and if you believe that you have received it, it will be yours." (Gospel of Mark 11, 24)
I wonder if I might be kept confined like this, repeating these humiliating days, even ten or twenty years from now. I realize how heavy the sin of the crime of the authorities is when I think of me getting old just repeatedly having such doubts about my future. I cannot help but think if the way of living like this is all right or not. It is a natural and an inevitable fact that a man is getting older day by day.
From the day of our birth, we are surely going to close in on death. There is no one who can step away from death.
However, many people don't think about this natural matter.
Or they may forget about it. A man has to die for some kind of reason one day. No one exists who will not die. A man who knows the deep sense of the meaning of the fact that a man is a being who is going to die is a man who truly lives in the sacred and the good. This man doesn't shackle any person because the shackling is the sin itself.
I wonder whether it is unjust to give encouragement, hope and courage to the man who is certainly coming closer to death. If a man is like this, then his attitude on life is that of a scoundrel. God gives us a better life. As long as we live, everyone has a mission. Even if someone can be considered such an insignificant person, he or she must be a precious existence in the eyes of God. However inhumane and grimy they are, they are to be charged with some kind of precious mission to carry out. And also God gives everyone the power to live anew as a human. The work of God for a man to live as a man has been embodied in admiration by the Bible, with the sacredness, justice, good and truth of the power of God. All of us humans must know about the infinite power of God.
Was a day like today necessary or not for death row inmates? Was it a wonderfully essential day for them or not?
Or was it a day which was better not to have? Then, they might think that the piles of all these days such as today, would be meaningless. The men in prison think only in common that, when I roughly classify my everyday life, most of the days were not so necessary.
However, if you are really aware of life itself, even a little bit, you will come to cherish your own life. Then you will know naturally that you should not live irresponsibly even for one day. As I wrote before, all of us humans must die, death is inevitable, and we will necessarily die due to an accident or disease or senility in any case. Tomorrow is closer to our death than today. I should not live vacuously. It is the Bible which teaches me a true way of living.
Pursue the path of virtue always! Yes, I was stigmatized as a condemned death row inmate with a crime which I didn't commit. (July 19)
Dear Sister, (omission)
I have been learning about the sinful part of the human mind through the Bible. "There is no one righteous, not even one." is clearly written in the Bible. That means there is no one who is truly correct. There are always two criterions in the human's mind. The criterion which condemns one's own mistakes and the criterion which reproaches other people's mistakes and they are completely different. Those who cannot change such criterions are unhappy until the end.
In the Bible it is clearly written, "Love is patient and kind.
Love is not jealous or boastful or proud or rude. It does not demand its own way. It is not irritable, and it keeps record of being wronged. It does not rejoice about the unjust but rejoices whenever the truth wins out. Love never gives up, never loses faith, is always hopeful and endures through every circumstance." (Epistle to the Corinthians)
Even though I know that love is not irritable, stupidly, I had to be irritated so much. Because I don't remember, even during a long time of playing Shogi (Japanese chess), that I had set up the pieces of Shogi on the Shogi board, showing such impatience since my boyhood.
1982
January 17, Fine weather.
Sunday. Rising at 7:30 a.m. Washing my face. I pray to Jesus Christ in the meantime, as the warders' check on Sundays and on holidays in the morning is later than usual.
Please protect the daily health and happiness of Mr. Nobuo Gunji and everyone in the supporting groups of the Hakamata Incident. As Our Lord knows, Iwao Hakamata is innocent.
Please hand down the verdict of history as soon as possible.
Please lead us to the decision to open a retrial based on the truth. I am sure that my wrongful conviction will be made clear at a retrial which will be opened. Our Lord, 15 years have already passed since I was restrained in prison, for a crime which I did not commit. Please send your sacred love to the judiciary in this country so that they will not commit any more crimes. I ask you, Our Lord, with all my heart, to hand down your right and sacred decisions to all the people. Please lead me to endure this hardship until such a bright day will come.
Amen.
March 14, Fine weather.
Prayers. I read the Bible, books and the newspaper. The air which is filled with spring is now tickling the trees in the prison ground. Young leaves momentarily expand and their green is growing. It seems to me that little birds were celebrating the spring by flying nimbly. It was a very blessed scene in the morning for me as a Christian.
Love is generous and merciful. I was with your image at dawn with the clean fragrance of spring. Because you were with me even in my sleeping mind. Because you were kindly with me in the songs for which I kept on asking, without breath, and in the suffering nights even holding my breath. Because you kept on burning up in me with my revitalized blood, I would encounter you to share my joy and victory with you.
July 17, Raining.
Prayers. I sent postcards to Pastor Kuroki and to my sister. The outdoor exercise was suspended because of the rain. We played ping-pong for an hour from 1:30 p.m. I exercised by jumping.
Because I had visitors yesterday and took a bath the day before yesterday, I was not able to train by myself, but today I felt comfortable fatigue on my legs and in my waist.
It was good not to wake up in the middle of the night this week. Maybe it was because the people in the cells next to mine have not used the water supply. Maybe it is because I put some cotton in my ears for soundproofing, I am not sure if they haven't used the water supply at all.
I pray to Jesus Christ and appeal for my innocence from 9 till 10:30 every night. During this prayer time, I can be free from suffering. Thanks to God's love and blessing, I exist and cry for the truth and walk toward tomorrow. I fight against the man who fights against me. I thank Our Lord who saves me and gives me salvation and I feel unlimited joy in my daily endeavors. I will follow God who will lead me to the truth, the accomplishment of justice and victory.
December 28, (omission)
Dear Son, you are still little. Can you understand your Dad's feelings? Of course, you don't. Even if I know that you don't understand me, I am driven by an impulse to shout at the top of my voice, and I want to vent the real anger which fills my heart.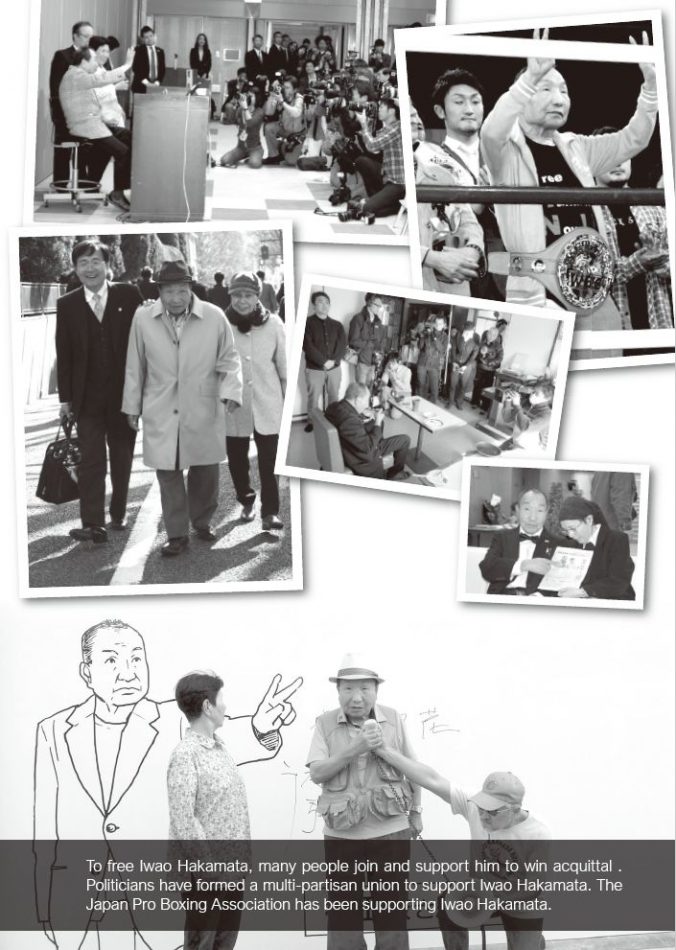 It was the dawn of August 18 in 1966, when your Dad was targeted and was arrested by bad police officers.
You would have been sleeping with your grandmother's loving care. On Saturday, three days later, I could have passed my hands across the cheek of your sweet sleeping face in the house of your grandmother who was taking care of you. But they made it impossible for me to even perform my duty as your Dad. The police arrested me, but I believed that their mistakes would surely be redressed. However, that logic was broken into pieces. The investigation reports were limitlessly and repeatedly changed and these were, rather than being investigation reports, like several frames of pictures which drew the figure of me as a bloodsmeared scapegoat and were drawn and erased again and again by the investigators who surmised everything.
December 19, (omission)
Your Dad is not the real criminal in this case. My dear son, you should understand your Dad, because the way I have been walking step by step with determination is just and the only right thing to do is to protect human dignity in my life. However, I have no intention whatever of pressing you, without reserve, to believe me who was not able to rear you because I was forced to be in prison. But you are my son. We have a parent-child relationship by blood and I want you to live cleanly and justly and look at the social circumstances and the severe historical facts which your dad has been facing. You have probably grown up, just enduring this while people talk about us behind your back in a society which is only full of sorrow. Therefore, you might have to give up and cross out our man to man relationship and even our parent-child relationship. Regarding the relationship of parent-child, I am your Dad who had just seen you born, but the current condition where I have nothing to give you as you grow up to be a fine man is the most regrettable fact for any parent. I might just convey responsibility for this only in my words.
As soon as you were born, you were buffeted about by the storms of life.
You are born as a poor star to learn through personal experience the world's cruelty and severity. But you should not think your grandmother's warm heart with which you have grown up and the academic institution you went to are the only places for you to study.
In the misunderstanding of this generation which confines an innocent man with discrimination, a life of your Dad who has ceaselessly been writhing in the jail where you once visited and has been smeared with dust and sweat.
What is the dignity of my life? What is the biggest desire and how is it going to bear fruit today? How is it broken down?
Or, how do I make it bloom and how do I make it bear fruit in the future? You have to moralize these issues with an awareness of the issues from the reality of the two groups of trying to rescue Iwao Hakamada. And then, if a man goes on living facing up to them, the achievement of greatness for a man will be guaranteed. I was not able to take care of you because of my wrongful conviction. I am terribly sorry and am frustrated about it. Even now I am so keenly mortified as to make my hair stand on end and such a strong mortification makes my skin creep. And I was able to directly show you the formidable doomed appearance who was sentenced to death
by wrongful conviction, and such miserable innocent citizens as our relatives who have been exposed to stress and this crisis which were brought into their houses. In this sense, was this one of the greatest teachings which I put all my heart and soul into and showed it to you as your Dad, through your time of growing? In the event of objective circumstance bringing some stress and crisis into one's childhood, a righteous person will conceive of it as one of the foods for growth. So I would say that such a person has a possibility to make a prominent figure as a historical character.
February 8, (omission)
I don't bear a grudge against the individual who made me out to be a convict, but I think that the soil of a jail in a police station which does such inhumane acts should be eliminated.
In the modern history of prisons which makes us imagine the smell and drops of blood, I, an innocent man, was bound to have a showdown with the frozen, rusted, reddish and old iron chain. I realized that such a history is repeated again and again. My sorrow of existing as a living convict has hit home.
Dear Son, I pray that you grow up to be an honest, pure and brave man. There is nothing to be afraid of. If your friends ask you about your Dad, answer them like this; My Dad is fighting against an unjust iron chain, which is forcing him through their old and brutish speculation and is a kind of symbol of this era.
In the place where many devils are dead, he will fight against them until this unjust iron chain will be broken into pieces, crystallizing the greatness of justice.
Dear Son, if you put your energy into the right thing and live in such a cold society which is full of hardship, as an example of how not to behave, I, your Dad will go back, in good health, to the place where you live and I miss. And I will surely prove my innocence. Your Dad never killed anyone. It is the police who know the most about this and it is the judge who regrets it the most. I will go back to you, cutting off this iron chain.
July 31, Fine weather.
Writing. Reading books and the newspaper. It was a hot day.
Message; please tell both prison chaplains, Mr.Tatsuya Shimura and Mrs. Kiyoko Iwashita, that I am thinking of being baptized a Catholic.
Mr. Shimura's address is as follows: Tokyo Archbishop's Hall, 3-16-15 Sekiguchi, Bunkyou-ku, Tokyo. Telephone; 943-2301.
I suppose that he might be a foreigner through his handwriting and the context of his sentences. I understand that the prison doesn't really want me to see him freely.
March 11, Fine weather.
Reading books. It is still cold, even after the snow has melted.
I am full of mourning and sorrow. I don't know how I was saved by your mother, Saint Kiyoko Iwashita's teaching. It was immeasurable. I just cannot thank you enough. The other day, your mother appeared in my dream. And she said to me "Please call me Mother." I wrote a postcard to her on March 8 saying, "Dear Mother" at the beginning of the letter. At that time I did not know of her rising to the skies at all. On that evening, an officer brought me back the postcard which I had written to her, saying "Hakamata, she died last month. It will not reach her even if you post it." I was shocked.
I am now thinking of your mother's image and graceful smile, and seeing her incomparable love. My sister, my sacred Mother, dear Mrs. Kiyoko Iwashita, who moves me even now by her sacred personality and spirit, may she have a peaceful mind in the endless happiness. In the name of the Father, the Son and the Holy Spirit, Amen.
August 16, Fine weather.
Posted a card to Father Shimura. How hot it is!
No one thinks about how lonely death row inmates are until just before their executions. There are many fellows who are vibrant with vitality around me. The counselling of how to survive is held more often than the counselling of how to die.
However, no matter how good the relationship with the friends you have is, you will be alone when you are killed. When they think about it, they are filled with horror. However, it is already the last moment where there is nothing more that can be done.
They would cry in the last gasp, "It's not supposed to happen like this." Anyway, I think that someone who is killed by being deceived materially and immaterially is nothing but a wretched person. Everyone is born alone and they die alone. Life is basically being alone. That's why, activities like helping others and being involved in their matters are incomparably precious and are a fragrant touch of humanity.
December 15, Cloudy.
We have received a gift of some sweets from "a small volunteer group." I was fully touched by it. This gift is a source of blessing which reaches us silently, only for the death row inmates, every December. It takes about ten days for us to finish it. Sometimes the officer would scold us, "Why don't you eat them up sooner?" However, we don't have any intention to eat it quickly. Because we fully understand that the mission of these sweets is filled with a lot of great love from unknown people. That is why we feel it is excessively too good to waste them. But we yield to temptation and finally start to eat them.
They should be sweet, but it is vexing that they are sometimes salty with our tears. The tears of our fellows' regret will be warmly swept away soon. Please believe me. Anyway, Hooray!
In our room there is a glory of love which has been seeded and has borne fruit in a real society that has existed from tonight.
When I think of this we feel so happy. Thank you.
December 24, Fine weather.
Today is Christmas Eve, a lucky day, which I have really waited for.
At about 10 a.m. the warden came to tell me it is time to be baptized. So I went to the room where the prison chaplain usually preaches to us. The directors of education and security were going to witness this ceremony. Father Shimura was wearing the robe for the ceremony and was praying with a calm look on his face. Eventually, I was soon invited to the front of the Cross and I was solemnly baptized. Especially, when he made a cross mark on my forehead, the surrounding of my whole body was brightened and I even felt a soft light. I stared, with deep emotion, at an admirable baptism, an eternal life in happiness, a true life which is flamed up for the first time with shining flowers of stars. It was a real moment for me from which a fresh history will bloom. No, not only the history, but it was the feeling of a premonition of heaven in which I heard the singing of the victory and the honor in the Gospel. Not only the premonition, but it was also the height of pleasant emotion to pray to God, who is such an artist, as if he were creating the victory colorfully.
Yes, that moment was the acme of the greatest glory for me in which every obligation bore fruit. Amen. Paulo