Words of Recommendation
Words of Recommendation by Cardinal Seiichi Shirayanagi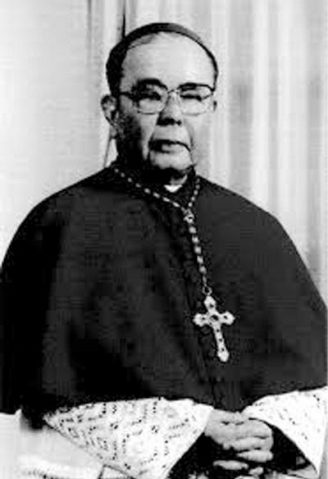 "Our Lord, as you know, I, Iwao Hakamata am innocent.
Please give me a historical judgment as soon as possible. Please lead us to the decision of opening a retrial based on the truth."
Our dear brother Paulo, Mr. Iwao Hakamata, wrote this in his diary on January 17, 1982. What kind of person is he? He is a former professional featherweight boxer ranked 6th in Japan.
Why is he claiming his innocence and appealing for a retrial?
At dawn on June 30, 1966, the house of the managing director of the "Kogane Miso Factory" was set on fire in the city of Shimizu, Shizuoka prefecture. The four burned bodies of his family, who had been stabbed to death, were found among the ruins of the house.
Mr. Hakamata was arrested and then sentenced to death at the Shizuoka district court on September 11, 1968. On November 19, 1980, the final appeal was dismissed at the Supreme Court and his sentence was finalized. He was then put under restraint in a prison in Tokyo.
There is not enough space here to write about this case, the so-called "Hakamata Incident," in detail, but it is said that there are many questions about his conviction. He has been consistently denying having committed the crime from the first hearing, and he has been claiming his innocence up to now for the past 26 years.
His defense counsel filed a petition for a retrial to the Shizuoka district court in 1981, one year after his death sentence had been finalized. However, the opening of a retrial has not yet been decided, even though ten years have passed since then.
This book was published by his supporters who gathered some of his diaries, together with letters to his family and supporters, which he had written during his time in prison.
Needless to say, the judgment of guilty or not guilty is decided by the court. However, it is natural for his supporters, who maintain his innocence, to hold a campaign to help him.
As I mentioned before, it seems to me that there are several questions about the details of his trial.
Furthermore, I think that it would be impossible for someone who committed this crime to consistently continue to claim his innocence for 26 years. Also, he was baptized a Catholic on Christmas Eve in 1984. How can such a person like him lie before God?
It is my sincere desire that many people will read this book and listen to his cries, which are considered to be like his prayers in prison.
May 27, 1992 Catholic Cardinal in Tokyo
Seiichi Shirayanagi